There were 36.7 million people living with HIV globally at the end of 2015. At the July biennial International AIDS Conference held in Durban, South Africa, attended by over 18,000 global delegates, the 90-90-90 target (90% of people living with HIV diagnosed, 90% of people diagnosed taking HIV treatment, 90% of those on treatment achieving viral suppression) was endorsed to be the key to achieving the aspiration of an end to AIDS by 2030. However, as expressed by the UNAIDS Executive Director Michel Sidibé that funding remained the vital key to determine if the epidemic could draw to an end. He reiterated if the funding continue to fall, it would be impossible to achieve the targets and rather than ending AIDS by 2030, the epidemic will rebound and rates of new infections will once again increase.

Back in Hong Kong, we saw the height of new HIV infections in more than three decades with 725 new cases reported in 2015. As of the first quarter of 2016, the new infection number was at 7,865. The alarming climb signals that HIV remains a public threat. Funding for AIDS program allotted for direct patient's program was unusually low last year. This places heavy burden in patient's care service especially when many patients admitted under care were diagnosed at late stage.

Locally, over 70% of people living with HIV/AIDS contracted HIV through sexual transmission and approximately one in five PLWHA are women. Despite the alarming figure, women who acquired the infection normally were diagnosed at the late stage of their illness. This indicates stronger needs of programs specially designed for women in Hong Kong. To promote more testing opportunities for this sector, The Society for AIDS Care has launched a new hotline phone in and testing program for women in February this year. The program is handled by our experienced HIV nurse and social worker, aims to raise the awareness of women testing and promote early treatment. Since there is no cure for HIV, it is very important that people will come forward for early diagnosis so that treatment could be provided to extending life expectancy and curbing the epidemic.

The Society remains active in admitting new patients last year. New patients from different age groups were admitted through hospitals' referrals. They were referred for our service due to poor health with low mood/depression and required assistance in drug supervision, disability rehabilitation and social integration. To avoid the transmission of HIV virus from a HIV-positive mother to her child during pregnancy, labour, delivery or breastfeeding, our professional home care mother-to-child-transmission intervention program have successfully eliminated HIV in 33 new infants from HIV positive mothers under our care today.

We continue to place looking after sero-discordant couples (one person who is HIV-positive and one who is HIV-negative) as one of our priority areas in HIV prevention last year. The program highlights one of the most important recent developments in HIV prevention with the introduction of pre-exposure prophylaxis (PrEP) for the negative partner. Together with education for safer sex and improving HIV-positive individual's HIV adherence treatment plan, this program provides a very high level of protection against HIV for those sero-discordant couples planning having babies.
We are pleased to announce our patient's survey on center service audit last year through self-administrated questionnaires; it was revealed that 93.8% of patients who attended our service felt there was improvement in their self-perceived image. Whilst 94.3% felt that they were more confident to reintegrate into the society.

The Hong Kong-China Social Work Student Placement Program has been organized since 2011, students were scaled up on their social practice skills in caring for PLWHA in the Mainland with special focus on HIV positive children. The program will be extended further to accommodate the collaboration of more Universities in China in the coming year.

It was our honor to have the Secretary of Food and Health, Dr. Ko Wing-Man, to officiate our Red Day @ World AIDS Day campaign held on 1st December last year. At the opening, Dr. Ko complimented on the success of our unique rehabilitation care services and in educating public acceptance for PLWHA.

In terms of funding support for our programs, we are very thankful for our monthly donors and corporates that devote their time and efforts in helping us. All of the good work cannot be achieved without their generosity. We look forward to bringing even more positive changes in the HIV/AIDS community in our coming years.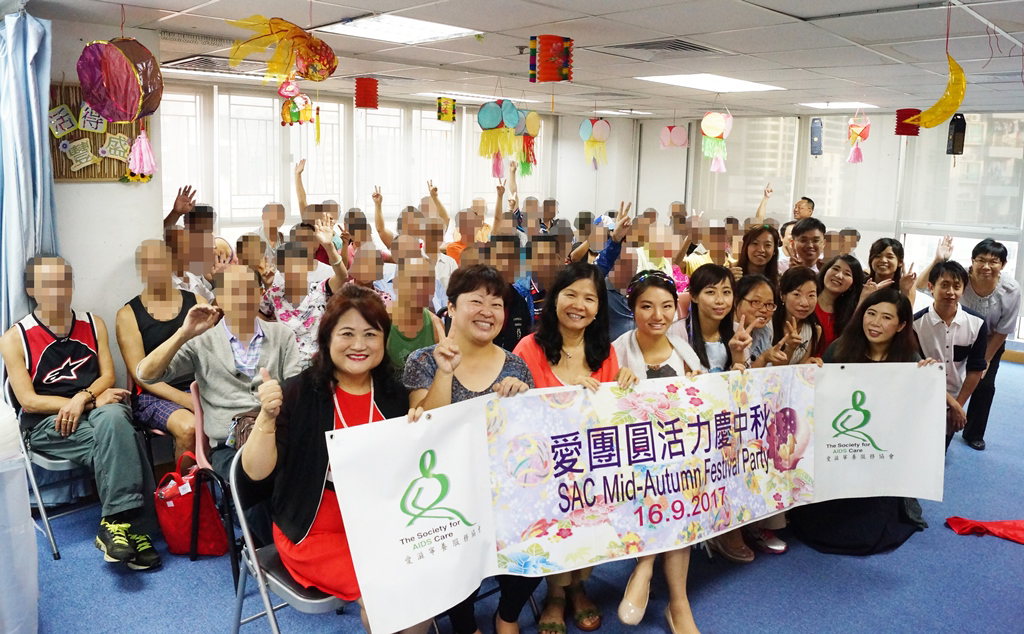 Alice Chan
Chief Executive Officer
Oct 2016