2021-2022 was an unsettling year fraught with challenges. The ongoing COVID-19 pandemic has undoubtedly aggravated the unprecedented burden to our local healthcare system. The fifth wave of the epidemic disrupted health care delivery and might have affected HIV testing service, which is an essential gateway to HIV prevention, treatment, care and support services. In June 2022, the United Nation has released that if the international community reaches the target of 90% of all people living with HIV will know their HIV status, 3.6 million new HIV-infections and 1.7 million AIDS-related deaths will be prevented by 2030. Until 2020, it was estimated that only 84% of all people living with HIV knew their HIV status. It is therefore imperative for the public to increase HIV testing uptake. Our HIV self-testing program using non-invasive oral swab aims to improve the awareness of HIV testing continued last year. The advantage for it be performed at a private place at any time becomes a new way of regular testing in demand. In addition, we continue to provide free HIV and syphilis testing with professional counselling to women in need. We hope these initiatives can compensate for testing and diagnoses missed during the COVID-19 outbreak and to accelerate the mission to end the AIDS epidemic as a public health threat by 2030.

While facing the challenging year, we continued to stand firm on the mission to provide high quality direct patient care services and to provide programs targeting the needs of clients. Our 24-hour emergency hotline service administrated by our specialized HIV nurses remained open to assist any patients who need proper administration of their prescribed medication intake and support from our team. Continuous medical treatment prevents HIV from multiplying, which reduces the risk of drug resistance, prevents opportunistic infections, and increases the survival rate. We are pleased to report patients under medication supervision care last year have successfully ensuring 95% non-detectable viral load, this helps their health improvement and lower chance of further HIV transmission. Besides, our professional team including social workers, physiotherapist and counsellors have been working continuously to bring improvements in patient's overall abilities.100% of clients who received our physiotherapy service both in our fully equipped SAC Day Centre and on outreach-based showed significant improvement including pain level, muscle strength, mobility and functional improvement.

At the same time, our Day Centre remains a multi-integrated platform for patient members and their care givers to connect, share their feelings and difficulties with fellows and establish a peer support network. Under the non-judgmental and non-discriminative philosophy, the patients under our care are strictly governed by the confidentiality policy. As a result, they could feel free to attend different activities without worrying identity being disclosed. With the theme, "Live well in the moment; Let's Walk together", we hoped to pass through the difficult moment with members during COVID-19 pandemic and encouraged members to take care of their physical and psychological health. Although large scale festival gatherings were suspended, our centre organized seasonal small group gatherings. Different targeted therapeutic programs such as art therapy, virtual mindfulness relaxation exercises, one-to-one fitness training and stretching exercise aiming to enhance PLHIV's holistic health were conducted by social workers, counsellors and physiotherapist. We hoped to use diversified activities and life support skills to encourage patients to be more engaged in the community, build different interests, enjoy the present and live a wonderful life.

Globally, HIV-status unawareness represents a significant challenge for achieving zero infection for the next generation. Locally, with the introduction of SAC Mother-to-Child Transmission Prevention Program (MTCTPP), 43 healthy babies were born since the beginning of this program in 2002. Through the cooperation and support from doctors and nurses in hospitals and HIV clinics, our home care nurses worked closely with the multi-disciplinary team ensuring the pregnant mother adhered to the highly active antiretroviral therapy (HAART) prescribed in order to suppress the viral load to undetectable level. The success rate is 100%.

In terms of youth education, our signature Mask Design Contest for schools and the community in Hong Kong and Cambodia has entered its eleventh year and second year respectively. With the theme of "Say no to discrimination", the contest provided youth with good opportunities to learn about HIV acceptance and measures to protect themselves. The program will continue to provide youth with good opportunities to learn about HIV and measures to protect themselves in the coming decade internationally.
With the sponsorship of Gilead Science and GlaxoSmithKline plc, we have organized 5 educational seminars in 2021 for our professional staff. The topics covered were "Advanced development in the treatment of HIV/AIDS", "Relationship of U=U and HIV prevention", "HIV and aging", "Drug-drug interaction and guidance on drug taking" and "Concept of 4th 90 and quality life of PLHIV". Through the educational seminars, we were able to deliver better direct care services to our patient members, as well as to share the new medical information and trends with our members.

Supported by HSBC HK Community Partnership Programme, we organized a 12-months long holistic health support program, which aims to enhance psycho-social well-being of PLHIV through art therapy, IT learning, community experiential learning and short-term food support. Two mobile art exhibitions were held to showcase the art pieces made by PLHIV and students. Together, we hope to promote the importance of HIV/AIDS awareness, eliminate the stigma and discrimination towards PLHIV.

Celebrating its 20th anniversary, the annual AIDS charity Walk continued to be virtual this year. With social distancing in place, overseas and local guests and participants were invited to design and complete the route within the designated period and place. Our special thanks to our AIDS Walk committee, T-shirt producer Simple Approach, T-Shirt designer Cassian Lau, celebrities, ambassadors, key opinion leaders and sponsors making this event to its new dimension.

I once again thank you for the noble interest that you have shown in our cause and hope that you will continue to support our services to sustain our vital care service for children, women, adults and elderly persons living with HIV/AIDS under our care. Your contribution is invaluable especially for those who are fighting against this severe illness alone.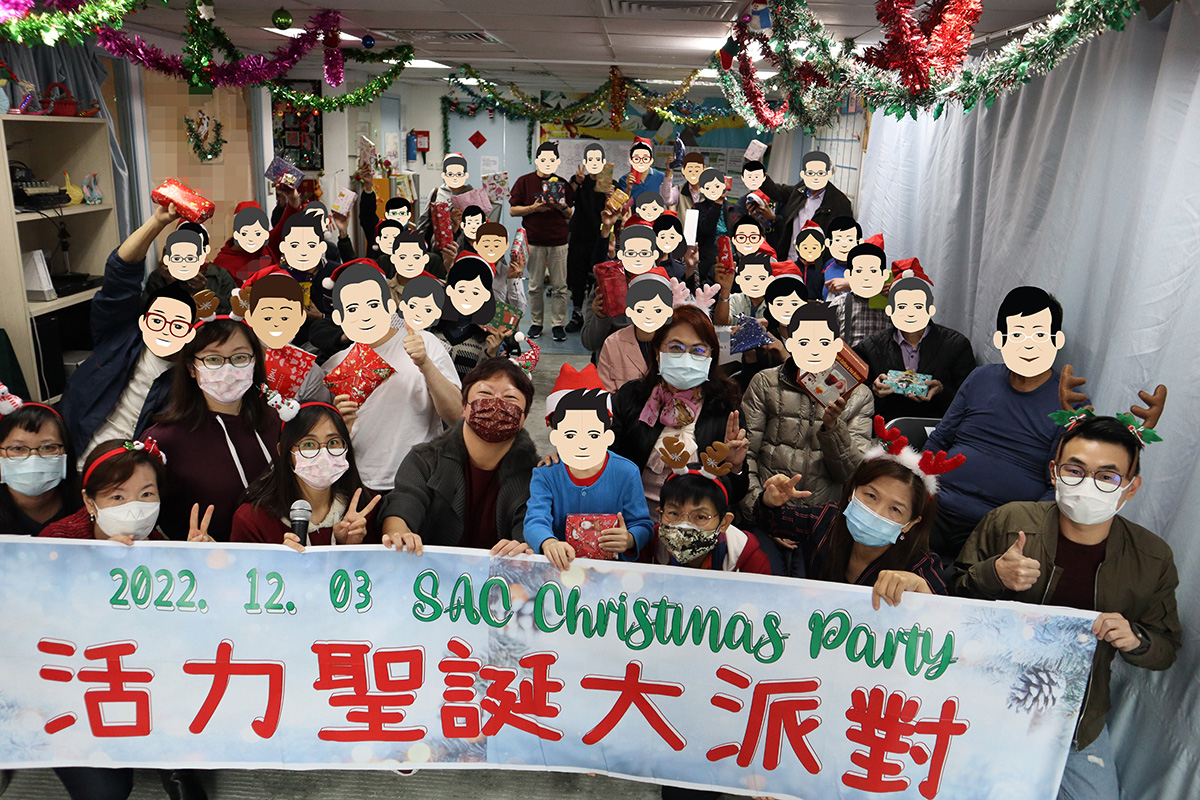 Alice Chan
Chief Executive Officer
Oct 2022