In 1994, the UNAIDS set the 90-90-90 target to increase the ability to combat HIV globally and established goals for different countries to follow and map out their testing, treatment and prevention strategies. The target aiming at having 90% of people living with HIV diagnosed by 2020, 90% of them are diagnosed received antiretroviral therapy (ART) by 2020 and as well as 90% of them on ART with an undetectable viral load by 2020. It is encouraging to see at the 9th International AIDS Society Conference on HIV Science (IAS 2017) opened in Paris this July with the excellent news that the world is on track to meeting targets for HIV treatment. It was anticipated by 2020, more than half of people living with HIV have now access to ART, and AIDS-related deaths have fallen by half since 2005. If all these targets are met, AIDS-related deaths will be cut dramatically and the rate of new HIV infections will fall.

In Hong Kong a total of 692 additional cases of HIV infection were reported at end 2016 bringing the cumulative total of 8,410 cases of HIV infections since 1984. Accordingly to report from the Center for Health Protection, sexual contact remained the major route of transmission. In response of the increases in number and better treatment opportunities, more cases were referred for our care last year. Increased number in young men who have sex with men (MSM) rehabilitation cases and elderly cases for medication supervision and emotional counseling were received. Regrettably, some cases referred were for end of life preparations and bereavement counseling for their care givers. The 24-hour emergency hotline service administrated by our specialized HIV nurses has been very helpful for the newly diagnosed and critical ill. Besides, our professional team including social workers; physiotherapist and counselors are working continuously to bring improvements in patient's overall abilities. In response to the 90-90-90 global target, we are pleased to report patients under medication supervision care last year have successfully ensuring 90% non-detectable viral load, this helps their health improvement and lower chance of further HIV transmission.

To promote more testing opportunities for women, we continue to provide our unique women phone in and testing program handles by experienced HIV nurse. At the same time, more media promotions coverage was placed last year to provide awareness aiming to promote early testing and early treatment. It is very important that early diagnosis is established so that treatment could be provided to extending life expectancy and curbing the epidemic.

In terms of youth education, our team has been very active in education road shows and school education. Our mask design contest for school and public with the theme of 'Say no to discrimination' were very well attended last year. More than 2000 entries were received from secondary school students and public. Many students actively took part in our annual AIDS walk cum mask display and contest award ceremony held at the Peak.

To continue providing support and skill transfer to less developed Countries in HIV care and prevention, our team has travelled to Phnom Penh, Cambodia, earlier in the year and exchanged with three local organizations that provide direct HIV care for positive children and orphans. It is our intention that we will establish more future empowerment exchanges so that some of our volunteers will be able to participant in the helping program in a long run.
The second Asia Pacific Conference on AIDS and Co-infections was held from 1 to 3 June 2017 at Hong Kong Convention and Exhibition Centre. We are honored to be one of their supporting organizations for the second year. The conference was well attended by global academics, researchers and professionals. A SAC booth was set up to introduce our services.

We have started our new media campaign displaying street banners across different districts in Hong Kong from September to October to introduce our service and promote HIV acceptance for the public. At the same time, a new look in our webpage was launched from August onwards aiming to provide a more responsive platform for the public.

The World AIDS Day Memorial Ceremony was held at Park Lane Shopper's Boulevard, Tsim Sha Tsui. We are honored to have Professor Sophia Chan Siu-chee, JP, Secretary for Food and Health and renowned artist Miss Lisa Ch'ng, SAC Ambassador to officiate the ceremony. Different activities such as HIV/AIDS knowledge Q&A game, red ribbon DIY booth, hand painting, and exhibition were organized. Jumbo Pig, the author of "Funny Clinic", created a specially designed collection aiming to promote HIV/AIDS awareness went on sales that day too.

In terms of funding support for our programs, we are very thankful for our monthly donors, and corporates that devote their time and efforts in helping us. All of the good work cannot be achieved without their generosity. We look forward to bringing even more positive changes in the HIV/AIDS community in our coming years.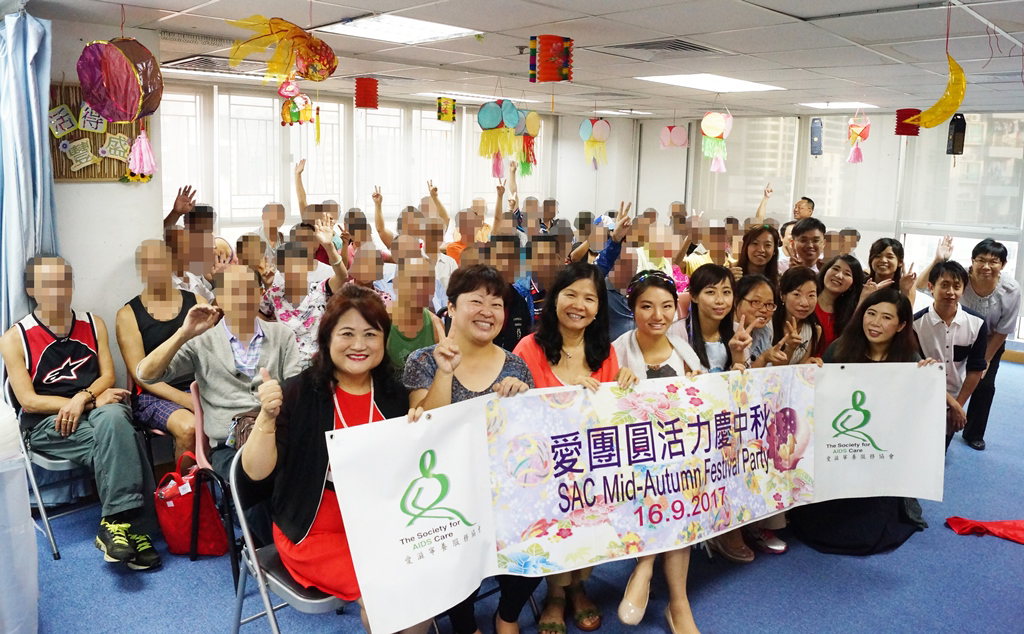 Alice Chan
Chief Executive Officer
Oct 2017